Live Review: Tom Waits @ Auditorium 8/9/06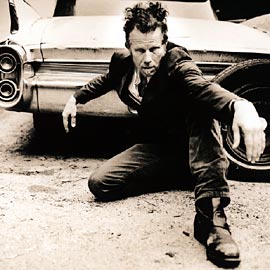 Oh, me. Oh, my. Such an amazing performance transpired on the stage of the Auditorium Theatre on Wednesday night, after waiting in a long will call line, and after everyone made it to their seats, the lights finally went out almost a half hour past the scheduled start time, and the dim mood lighting came up on a stage quarantined by a large taupe curtain with a slit right down the middle. Large shadows of the band projected on the curtain sauntered towards the audience as they made their way through the slit, a simple theatrical device borrowed perhaps from his time with Robert Wilson.
Tom Waits
took his place on a dusty square platform in a single spot as his hands reached out and squeezed the air. Then, the band (featuring Duke Robillard on guitar, Larry Taylor on bass, Bent Clausen on keys, banjo, percussion and Casey Waits on drums) began to play "Make it Rain" and off he went grunting and yelping like a howler monkey dressed up like a Southern preacher begging for the gods to let it pour. Though his signature voice has the delicate tone of a handful of gravel, it lends itself beautifully to the selection of songs he chose to perform. He continued his set that was loaded with songs from his last release
Real Gone
, but treated the audience to some classic standards as he wandered about the stage like a hunched over marionette. Among the 22 song parade, which included two encores and the nasty tease of a third encore that never came to fruition, there were so many highlights of the evening that its almost blasphemous just to mention a few...but here's a sampling nonetheless: After a balls-out rendition of "Hoist that Rag", "
God's Away On Business
", and "All The World is Green", the band left the stage and 88 keys were brought out. Waits sat at the piano in a single spot and was joined only by Taylor on upright bass. He indulged us in a few stories about Chicago, like how the last time he was here he stayed at the Wilmot Hotel on Sheffield/Belmont. His response to finding out that it was no longer there was a simple heartfelt, "don't you hate that?" "It's like in '9th & Hennepin,' I mention that" he said, "someone says, oh, Hennepin, my wife got some sandals on Hennepin... Jesus, sandals!... I was shot on 9th and Hennepin... I was in the middle of a pimp war, these 11 year old pimps, too young to carry guns throwing silverware at each other.." This funny banter preceded a beautiful offering of "Tango Til They're Sore". Then, commenting on Chicago's own Wiener Circle, he mentioned on his first visit he was called "dickweed", an hour later, it was "shitbag", and by the time they were leaving it was "old man." He said he went back the next day and "she was pleasantly nice to him, so he had her fired." "It's the rules" he said, "you have to keep your standards." An amazing version of "Tom Traubert's Blues" followed, which splashed a bittersweet smile upon my face each time he sang "...Waltzing Matilda." But, it was the spoken word performance of "
What's He Building In There
?", that really tickled my Waits-bone, a voyeuristic anomaly about a curious man and his mysterious neighbor, a man named Doolittle. The band sprinkled the background with a soundscape of effects that resembled sawing and a neighing horse at times, as Waits weaved the scenario, dropping a "goddamnit, what's he building in there" at every turn. It was a moment of pure hilarity and intrigue. He encored twice first with the sad and poignant "Day After Tomorrow" and the clap happy "Singapore", then again with "Whistling Past the Graveyard." Then out of nowhere he played the very appropriate "Time", and it was time, time, time to go, though they waited an awfully long time to turn the lights back up. Such a remarkable performance, I almost didn't want to leave, longing to stay and soak up as much as I could before being ushered away...
Set List:
Make It Rain Hoist That Rag Shore Leave God's Away On Business All The World Is Green Falling Down Tango 'Til They're Sore Tom Traubert's Blues Eyeball Kid Down In The Hole Don't Go Into That Barn Shake It Trampled Rose What's He Building In There Who's Been Talking / 'Til The Money Runs Out Murder in the Red Barn Lie To Me Baby Get Behind The Mule Encore 1: Day After Tomorrow Singapore Encore 2: Whistlin' Past The Graveyard Time